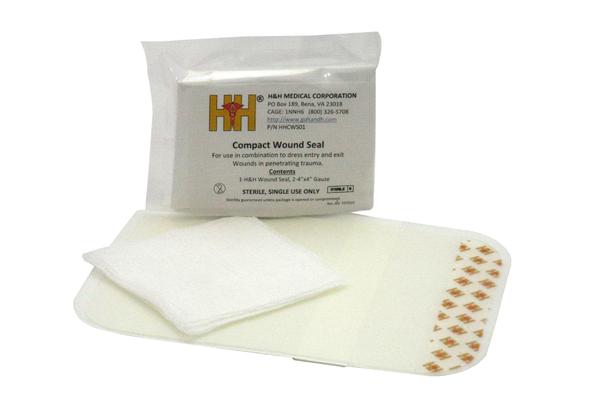 H and H Wound Seals
The H&H Wound Seals provides a fast application for sealing wounds quickly to stop external bleeding. These Wound Seals are sterile, TCCC-compliant occlusive dressings that comes vacuum sealed a plastic sealing rectangle and hydrogel adhesive to stick to the wound and the surrounding skin through blood and debris.
Our new redesigned seal comes with rounded edges to reduce friction with clothing. We've also added a new long tab to one end to allow for venting and easy removal and repositioning of the seal over the injury.
The Bolin Chest Seal (BCS) is a sterile occlusive chest wound dressing for treating open pneumothorax and preventing tension pneumothorax that result from gunshots, stab wounds, or other penetrating chest trauma. The patented (US Patent No. 7,834,231) failure-proof triple-valve design of the BCS allows air and blood to escape while preventing the re-entry of either, thereby eliminating any unwanted gas or liquid exchange at the trauma site.
The large (6" diameter), rugged polyurethane disc structure of the BCS can cover practically any size chest trauma site. The temper of the disc prevents any disc wrinkling from occurring during application.